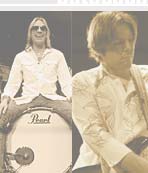 Shane Theriot, Matt Abts, Melancon Guitars, The Melancon Forum, Garth Webber, Adam Nitti, Joey Belladonna, Eric Holden, FJA Mods, The Atlanta Bass Gallery, X2, Johnny Neel, Jon Herington, The Grease Factor, fmogearshop.com, Chris Delis, Chuck D'Aloia, Kyle Bolden...
Our Client-base
| | | | |
| --- | --- | --- | --- |
| | | Web solutions for music-industry professionals. | |

Our Toolbox:

hearditontheweb.com specializes in creating custom web-based solutions for touring professionals and boutique instrument and pedal manufacturers.

We can custom build an on-line accessible dynamic tour calendar, an image database, instrument registry database, or a web-form solution.

We can help with your CD production, print, or replication|duplication needs.

We can help with your PDF media kits, multimedia PDF files, streaming web-video, mp3's, shopping carts and PayPal checkout solutions too!

Our Clients:
Shane Theriot


The Nevilles, Boz Scaggs...

Matt Abts


Gov't Mule...

Garth Webber


Miles Davis, Boz Scaggs...

Joey Belladonna


The voice of Anthrax!

Eric Holden


Josh Groban...

Melancon Guitars


Boutique Guitars!

Chris Delis


Session Player!

Chuck D'Aloia


Nick Brignola, J.R. Montrose...

Kyle Bolden


Stevie Wonder, The Jacksons...